Heracles on his head
A saga of the 21st century Production 2022 – Duration: 60 min – All audiences
Heracles on his head brings us back to the origins of hip-hop culture. On a U.S. rap playlist that tells the sometimes-brutal reality of the Afro-American youth, from New-York City to South Central, Atlanta, Dallas, Houston, or Philadelphia, four dancers, two B-Boys and two female hip-hop dancers, explore the principles of competition, hierarchy, and meritocracy. From Gil Scott Heron, KRS-One and Public Enemy to gangsta rap and contemporary conscious rap, the soundtrack immerses us into a vision of the system described from where one has to thrive to survive. Using embodied metaphors and symbols, the dancers, alone or as a group, compose a narrative about the strategic games we all play, but whose outcomes we undergo differently depending on the constraints that are imposed on us and on those we accept.
Steeped in the appeasement of violence philosophy in which hip-hop culture was born, Heracles on his head is a manifesto for peace that condemns corruption at all levels of society. It urges us to become conscious of our behaviors and question the purpose of our individual and collective trajectories.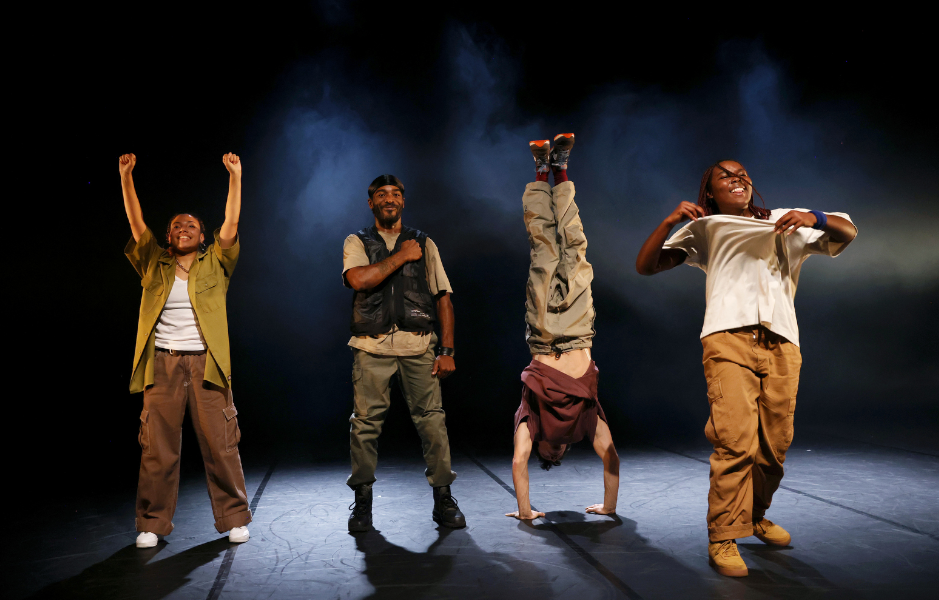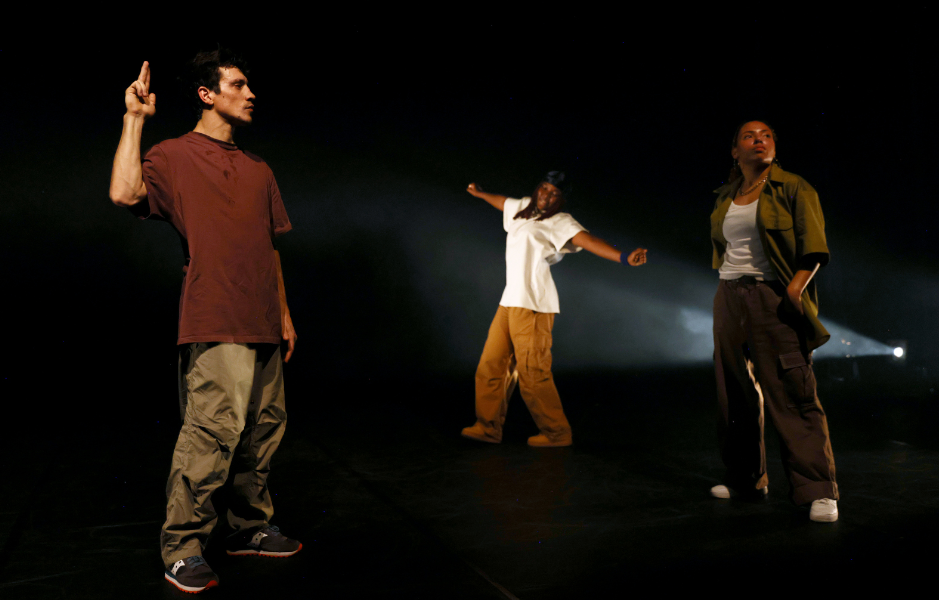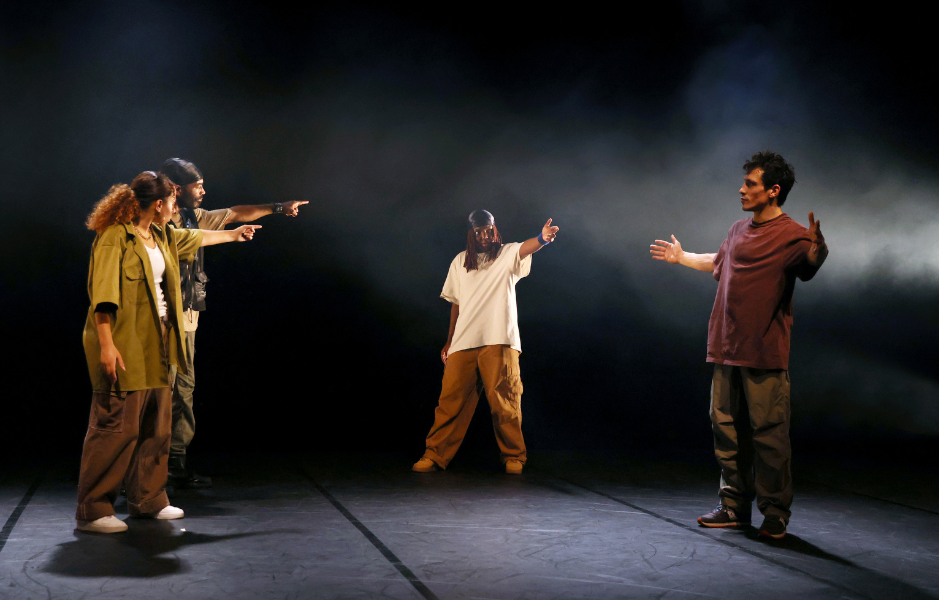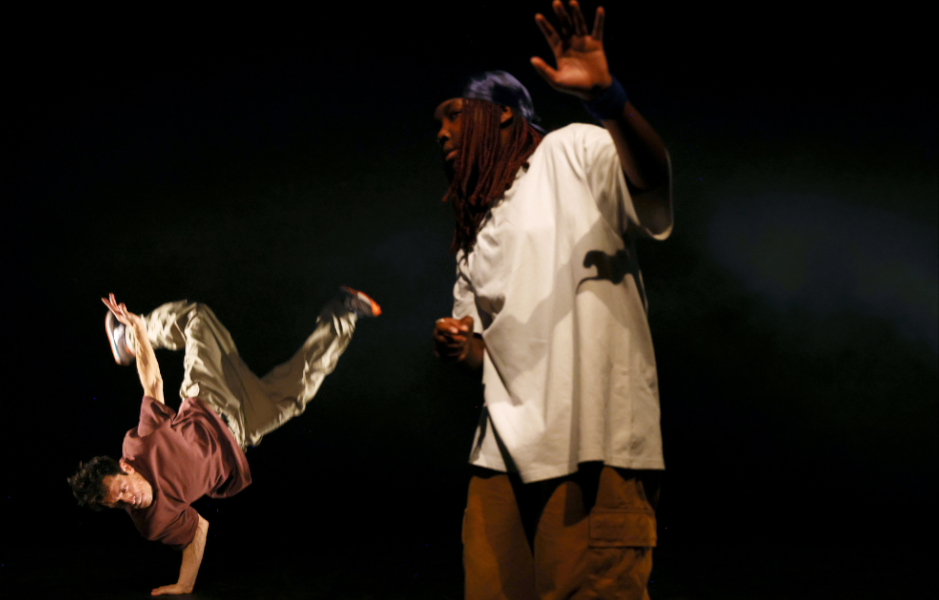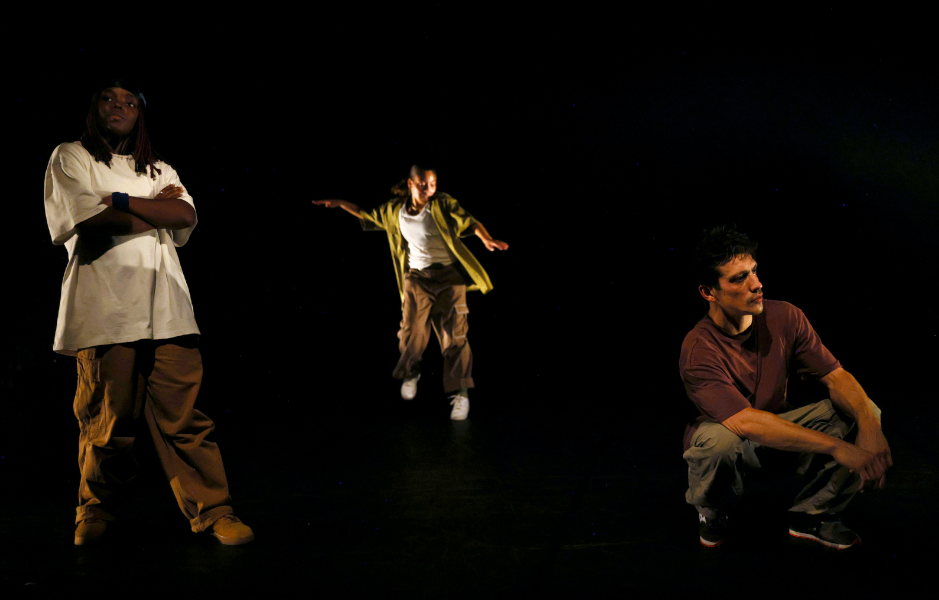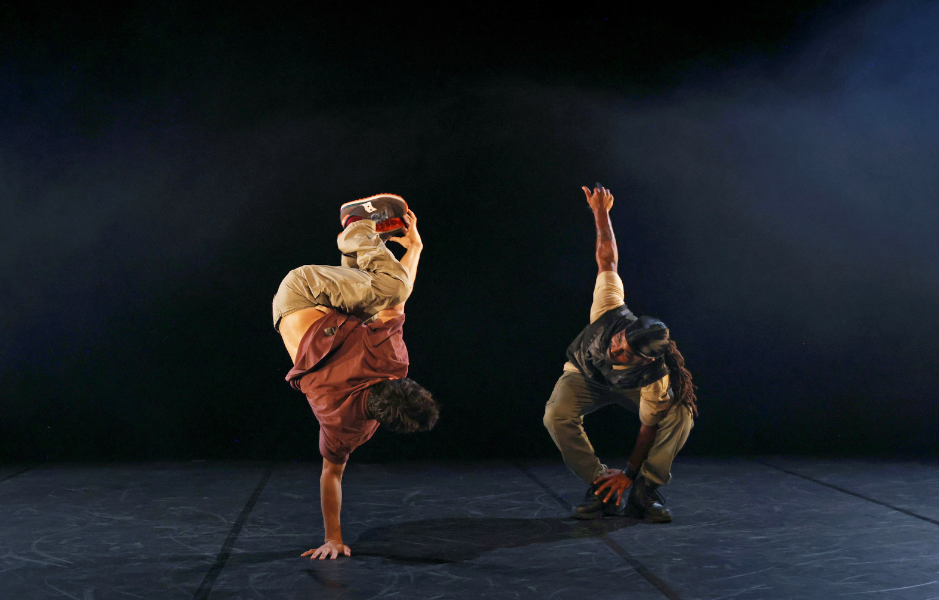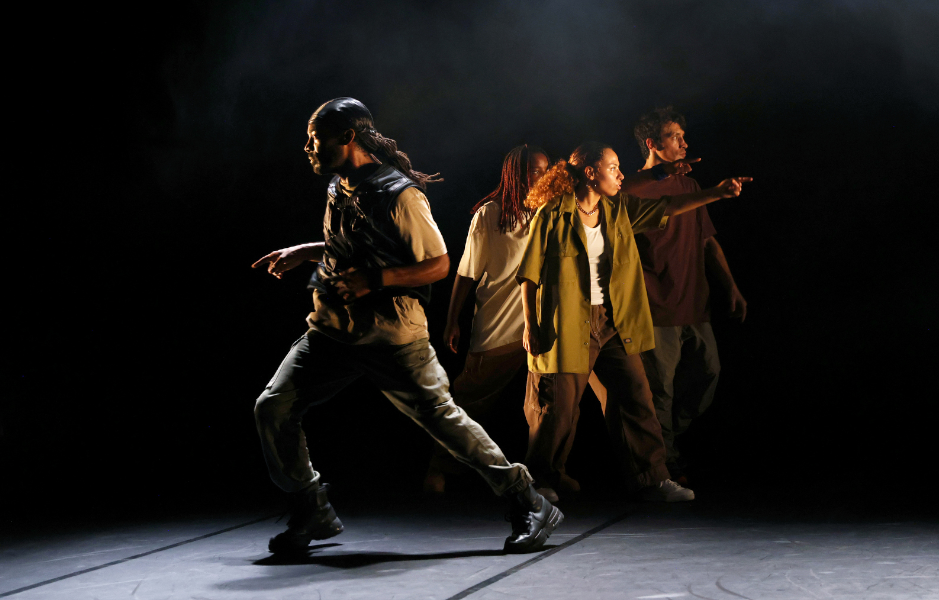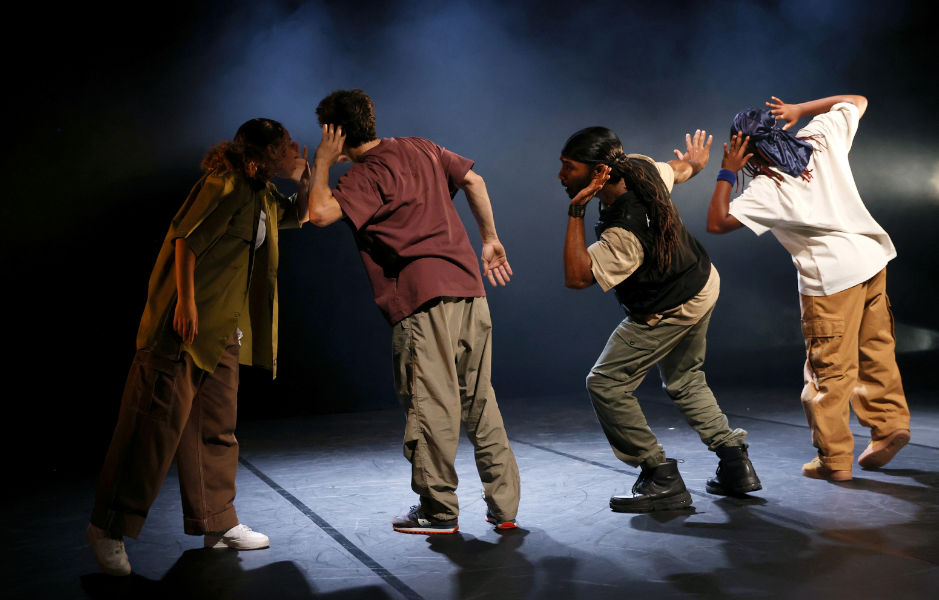 Cast
Choreography: Anne Nguyen Assistant choreographer: Pascal Luce Performers: Janice Bieleu, Fabrice Mahicka aka "Faboo", Clara Salge aka "K-Yoo", Hugo de Vathaire aka "Schlag" in alternation with Konh-Ming Xiong Lighting design: Alexis Beyer Collaborateurs artistiques : Pipo Gomes, Sonia Bel Hadj Brahim, Simon Huet Stage managers on tour (in alternation): Flora Lastouillat, Matthieu Marques
Partners
Coproduction:  Points communs – Nouvelle Scène nationale de Cergy-Pontoise / Val d'Oise; La Villette, Paris – Initiatives d'Artistes; L'Auditorium Seynod; Centre chorégraphique national de Rillieux-la-Pape, direction Yuval PICK, dans le cadre du dispositif Accueil-Studio.
Action financed by la Région Île-de-France. With the support of La Ferme du Buisson / Scène nationale de Marne la Vallée; Le Conseil Départemental de la Seine-Saint-Denis dans le cadre du « Dispositif Résidences In Situ en collèges »; Centre d'Art et de Culture de Meudon; Centre de la danse de la Communauté Urbaine Grand Paris Seine & Oise; Mairie de La Courneuve – Houdremont centre culturel; CND Centre national de la danse – provision of studio.

The par Terre Dance Company is funded by l'Aide pluriannuelle du Ministère de la Culture / DRAC Île-de-France, la Région Île-de-France for "Permanence Artistique et Culturelle" and l'Aide au fonctionnement du Département du Val-de-Marne. In 2023/2024, the par Terre / Anne Nguyen Dance Company is an associate artist to Théâtre Molière -> Sète scène nationale archipel de Thau (34), La Manufacture CDCN Nouvelle-Aquitaine Bordeaux • La Rochelle, with the support of ministère de la Culture, Théâtre de Choisy-le-Roi, Scène conventionnée d'intérêt national – Art et création pour la diversité linguistique (94), and is taking part in an artist-in-residence program in Ivry-sur-Seine, in partnership with la briqueterie – CDCN (94). Anne Nguyen is invited to an artistic and cultural co-construction at La Maison des Métallos in January 2024.





"The choreographer highlights the fact that music is the driving force of dance, and that the essence of the dance styles – here, breaking and hip-hop freestyle – inspires her writing. A line of writing that does not deviate for one straight hour, digging into the implications of those ideas in a raw and uncompromised fashion. […] While the piece looks like a celebration, Anne Nguyen points out to the violent origins of the hip-hop movement and to the importance of gangsta rap and culture. […] If the show can be considered as a celebration, Anne Nguyen does not avoid the violent dimension and the place of gangsta rap in the movement. […] With Heracles on his head, Anne Nguyen turns the hip-hop dancer into a modern-day hero, representative of the youngsters who struggle within precarious and violent environments. A hero who's attached to his art, which is first and foremost a culture and a lifestyle – in spite of all political distortions. The last move the dancers leave us with – finger spinning on the side of the forehead as if to tell us to "think about it" – is very eloquent: it invites us to go beyond this statement made of music and bodies in order to embrace the hip-hop movement in its historical and cultural dimensions, which are too often left behind."
La Terrasse – Nathalie Yokel (17 December 2022)
"The break choreographer Anne Nguyen presents Heracles on his head, a choreography that unfolds like a compilation of music, which tells the story of hip-hop through its historical and social context, relying on the musicality of the performers and the complicity that unites them. […] With the dancers, we go through a compilation of tracks by Afro-American artists, where US rap, emblematic of the history of hip-hop, takes precedence. A manifesto for this culture, which refuses stereotypes and shortcuts. […] Instead of adapting a hip-hop aesthetic for the theater – as is often the case – the choreographer takes the gamble of bringing this entire culture to the stage, for an audience that is not initiated. A demonstration that hip-hop dance and music are inseparable from their social and historical context, as the educational room sheet reminds us. In all of the pieces presented, a touching complicity shines through, a pleasure in dancing together, a true link in the piece."
Sceneweb – Belinda Mathieu (20 November 2022)
"[…] It is the first time that the stage of the Auditorium of Seynod welcomes a breakdance creation. This choreography by Anne Nguyen, performed by two B-Boys and two hip-hop dancers, goes back to the origins of hip-hop culture. With the entry of breakdance in the Olympic Games, the artist Anne Nguyen associated with the Auditorium presents her creation. It is a first […] Games of interweaving bodies, danced mechanisimes and unexpected space occupations, Heracles on the head presents a beautiful choreographic writing made of gesture presision and energy contrast. […] This dive into the culture of hip-hop values dazzles us with virtuosity and technicality."
Dauphine – C. P.-J (5 novembre 2022)