Underdogs
Trio – Production 2021 – Duration: 50 min
Underdogs are those who are expected to lose, never a safe bet. They're the ones who meld seamlessly with the urban landscape, on whom our gaze settles but never dares to linger.
In this choreographic piece, I observe the way in which our bodies are shot through with urban imagery and the traces this leaves behind. What influences do we appropriate from, with what characters do we identify to build our personalities, our body states? Hip-hop dance, the urban dance form par excellence, is fueled by everything that challenges the norms. The dancer is keen on detecting any sign of a transgression and to transform it into a creative gesture.
When I watch a dancer perform, I am moved by these interiorised signs. For hip-hop dance draws its inspiration from the postures, gestures and energies of characters found in the clubs and in the working-class neighborhoods of 1970s America. Throughout Underdogs, the dancers explore the very source of their gestural actions through their dance: to which symbols, to which social markers does it connect? How do the dancers relate personally and emotionally to their own dance's etymology? How deeply is the explosive energy of their bodies rooted in rebellion, or the rebelliousness of popular movements fighting for the underdogs, for the outcasts of our society?
Three dancers, one woman and two men, attempting to stick together. Through their dance, they embody an urban imagery that is on occasion provocative, sometimes transgressive, occasionally oppressive, at times liberating. By deep diving into different states of being, they explore the collective unconscious that unites them and embark upon a deep process of introspection. Against a backdrop of soul music evocative of the political climate in 1970s America, they proudly confront the invisible mass of their urban heritage. Through the gaze of the other and by coming face-to-face with their own inner antagonisms, the three dancers highlight the deep bonds that unite them, as well as the choices that make them individuals with fully-fledged personalities.
"In the turbulent mass of peripheral glances, I receive and send out signals with no address. Permeated by the flows of communication between mute bodies, I am lulled by the customary hubbub. A salute, a pointing finger, a stooped shoulder, a head on one side, a determined jaw, an affected gait, an accelerated pace, a waisted silhouette, a hidden glance, a calculated trajectory… A mass of interiorized signs bubble within me. My actions express only a fraction of the collective body language. I celebrate my harmony with the city by jostling my memories of its inhabitants in one single concentrated noisy move. Here is my dance: welcome to my city."
Anne Nguyen, Manual of the city warrior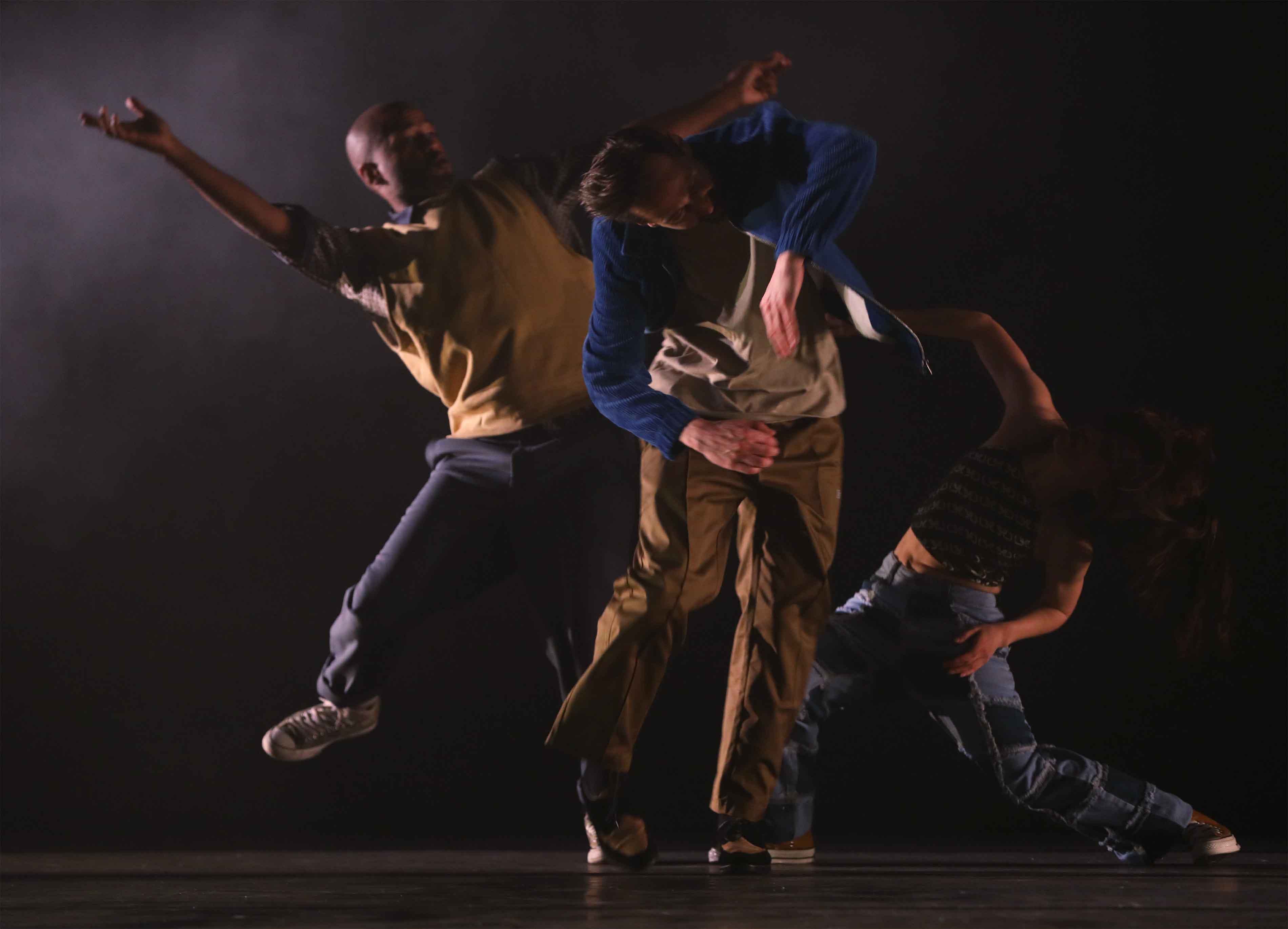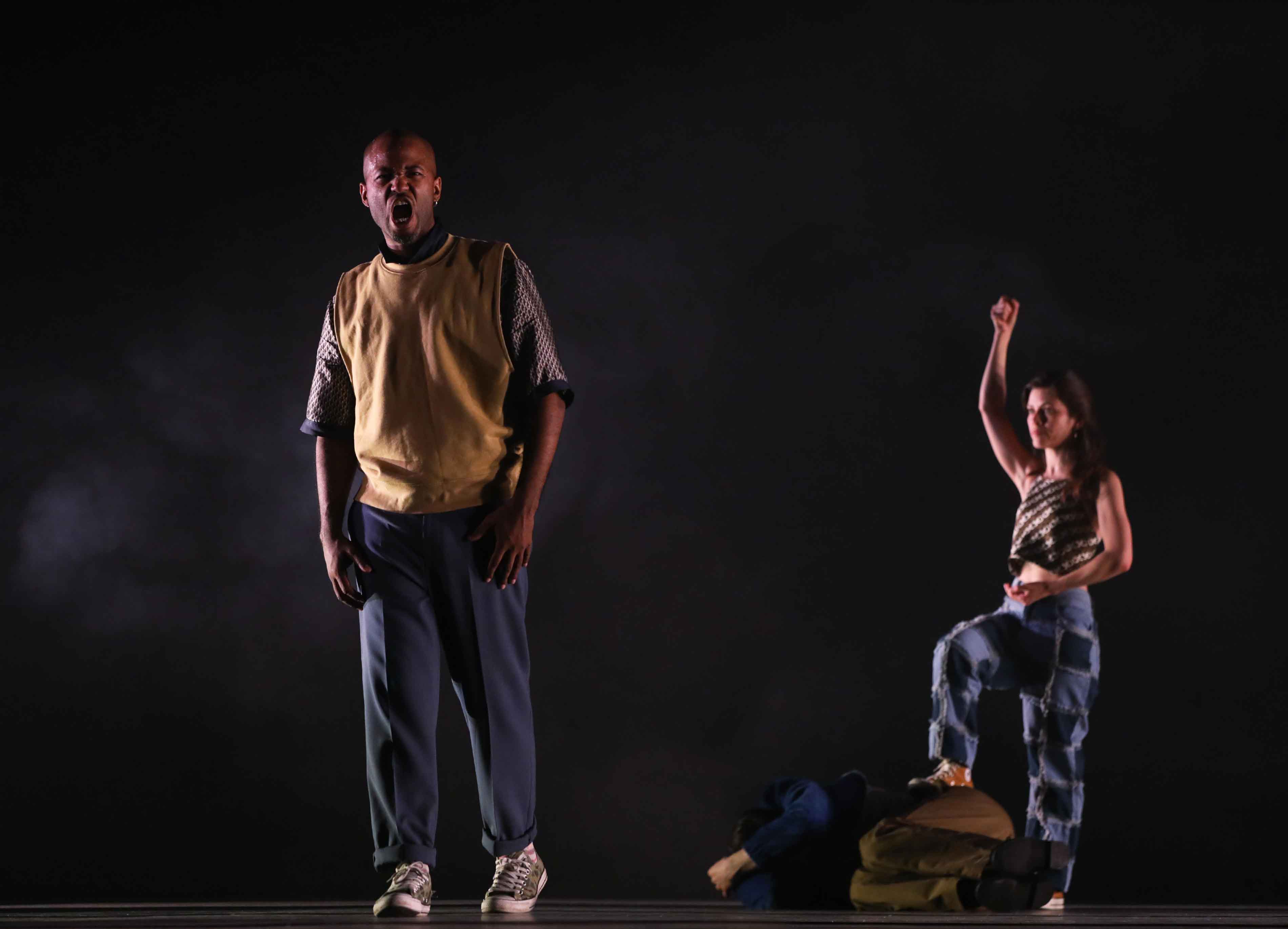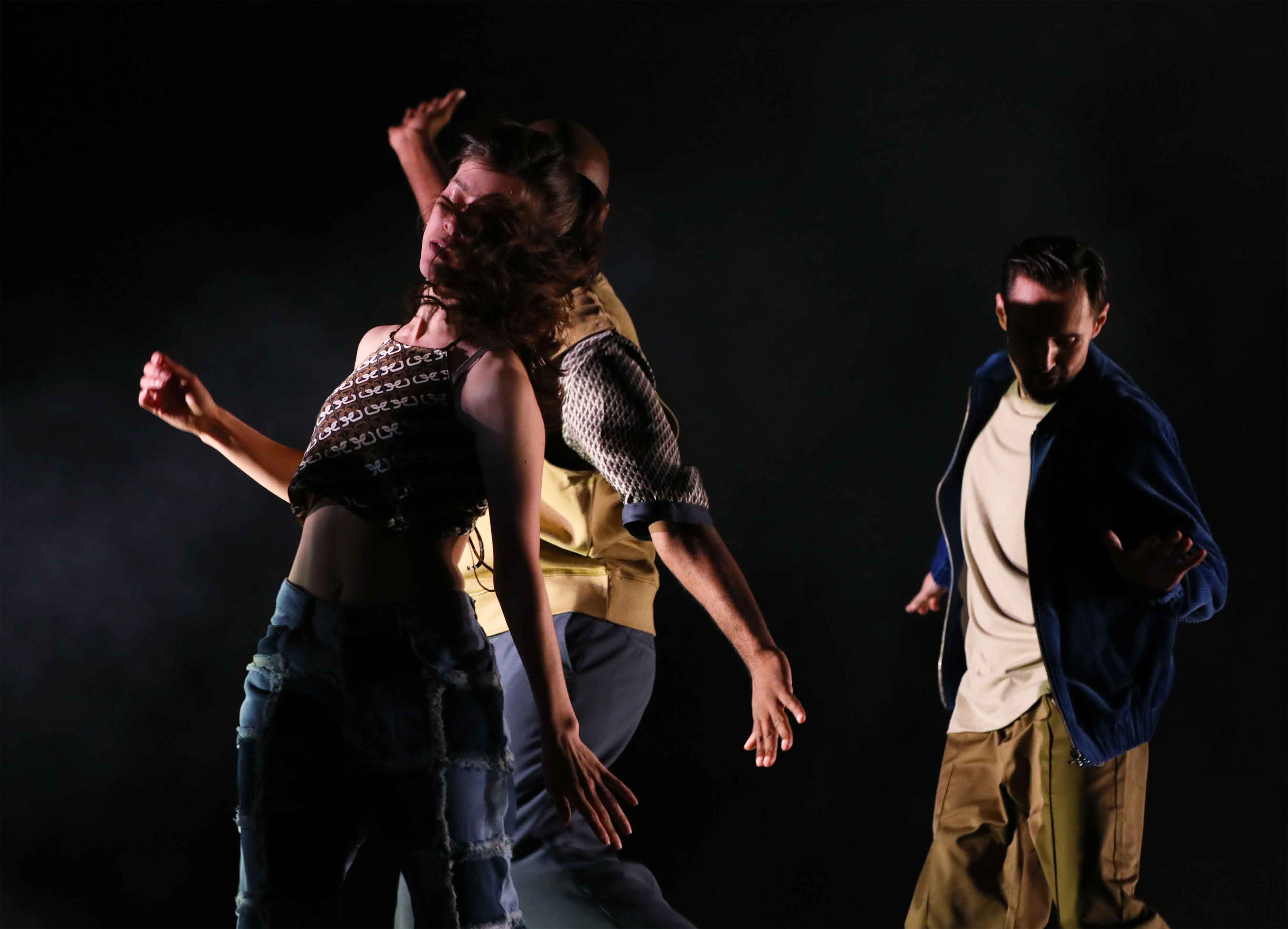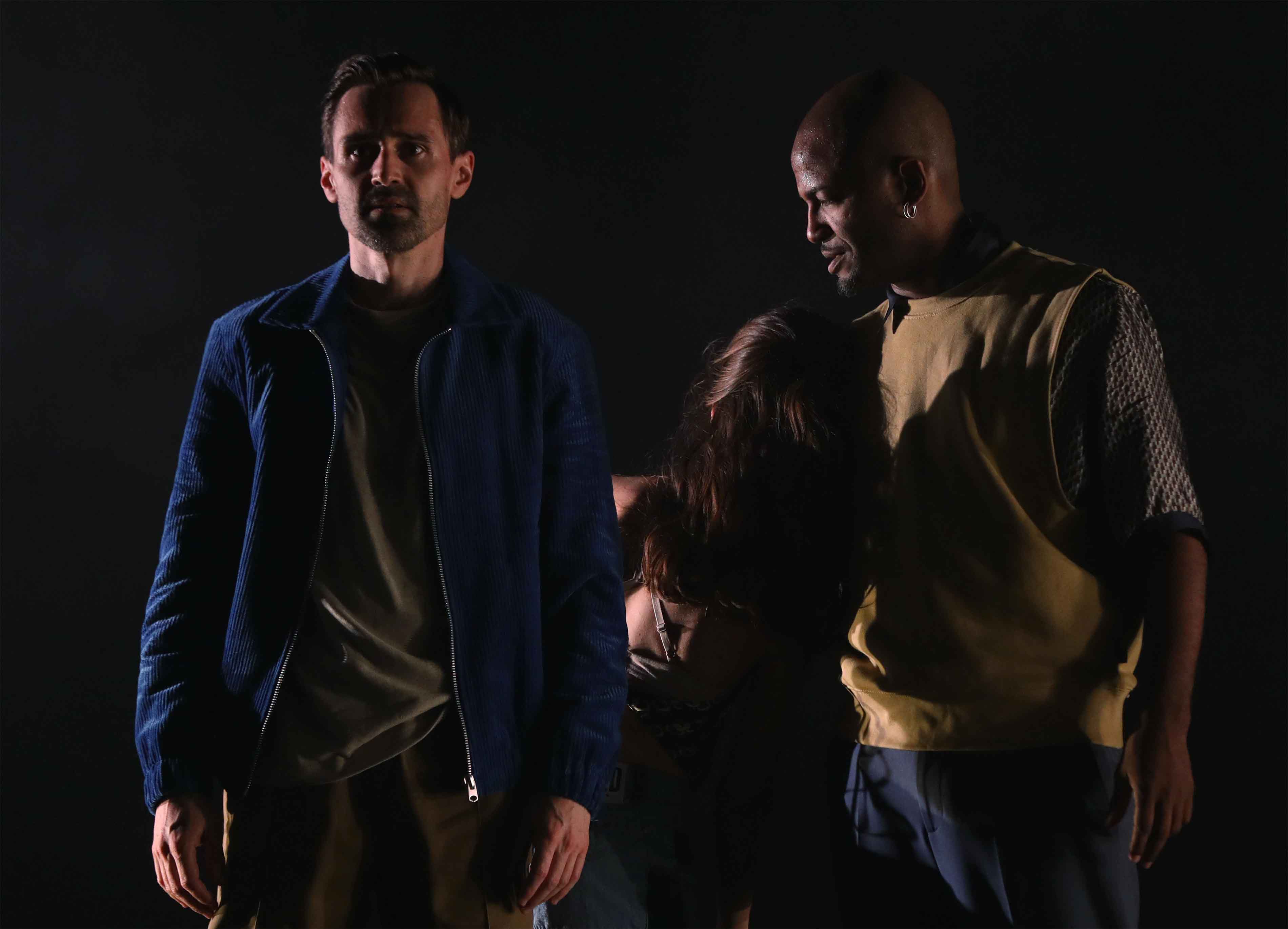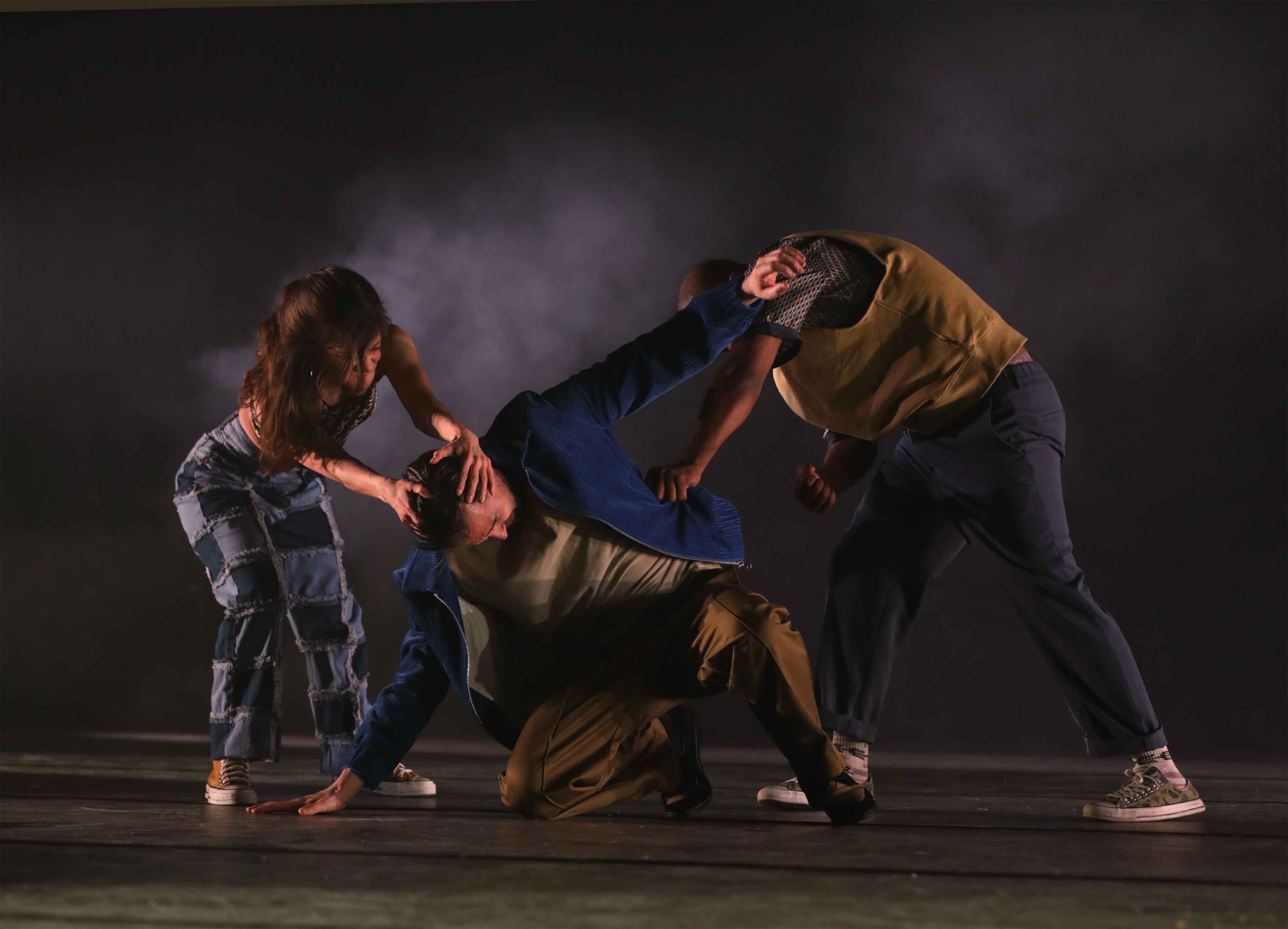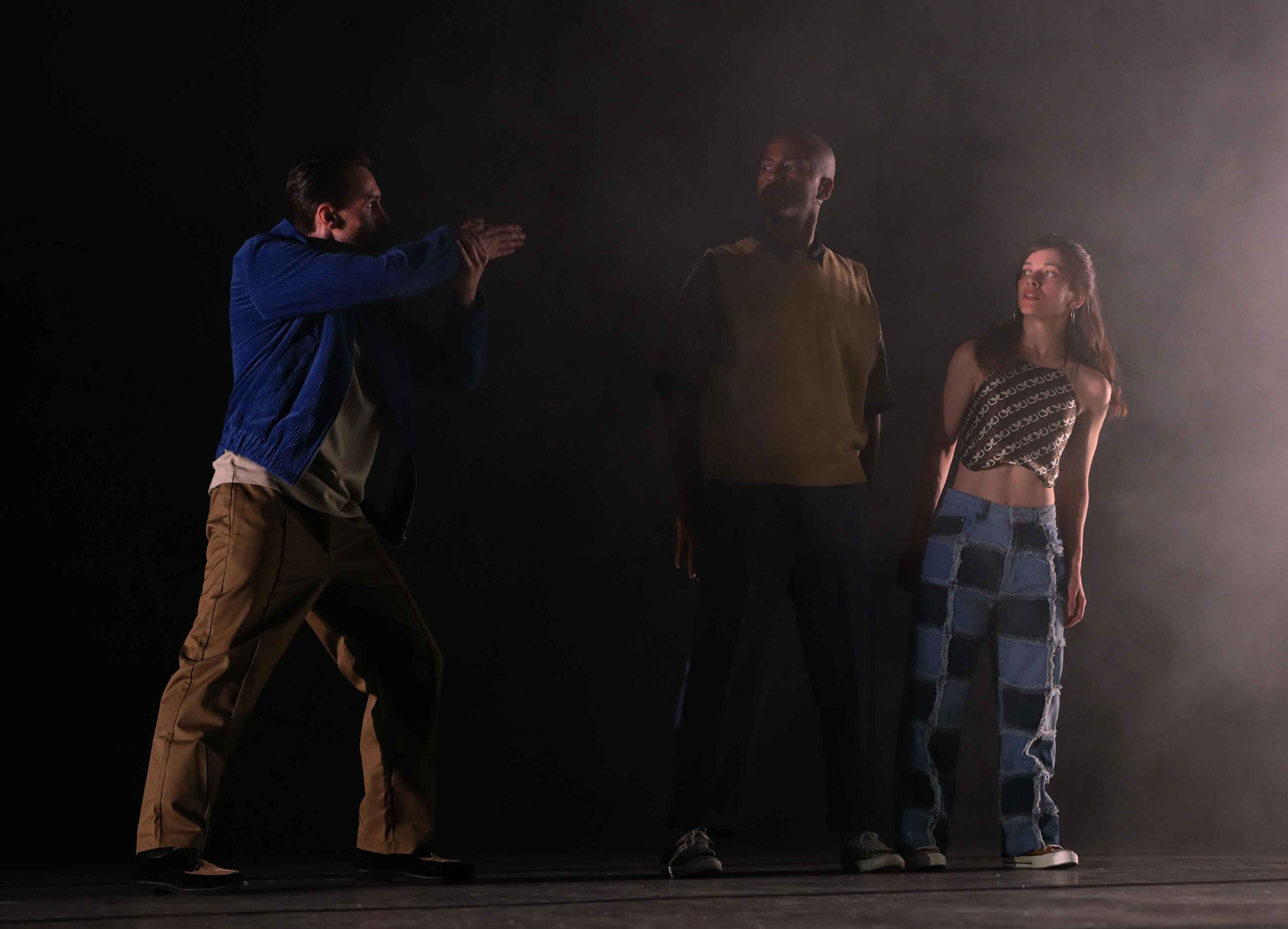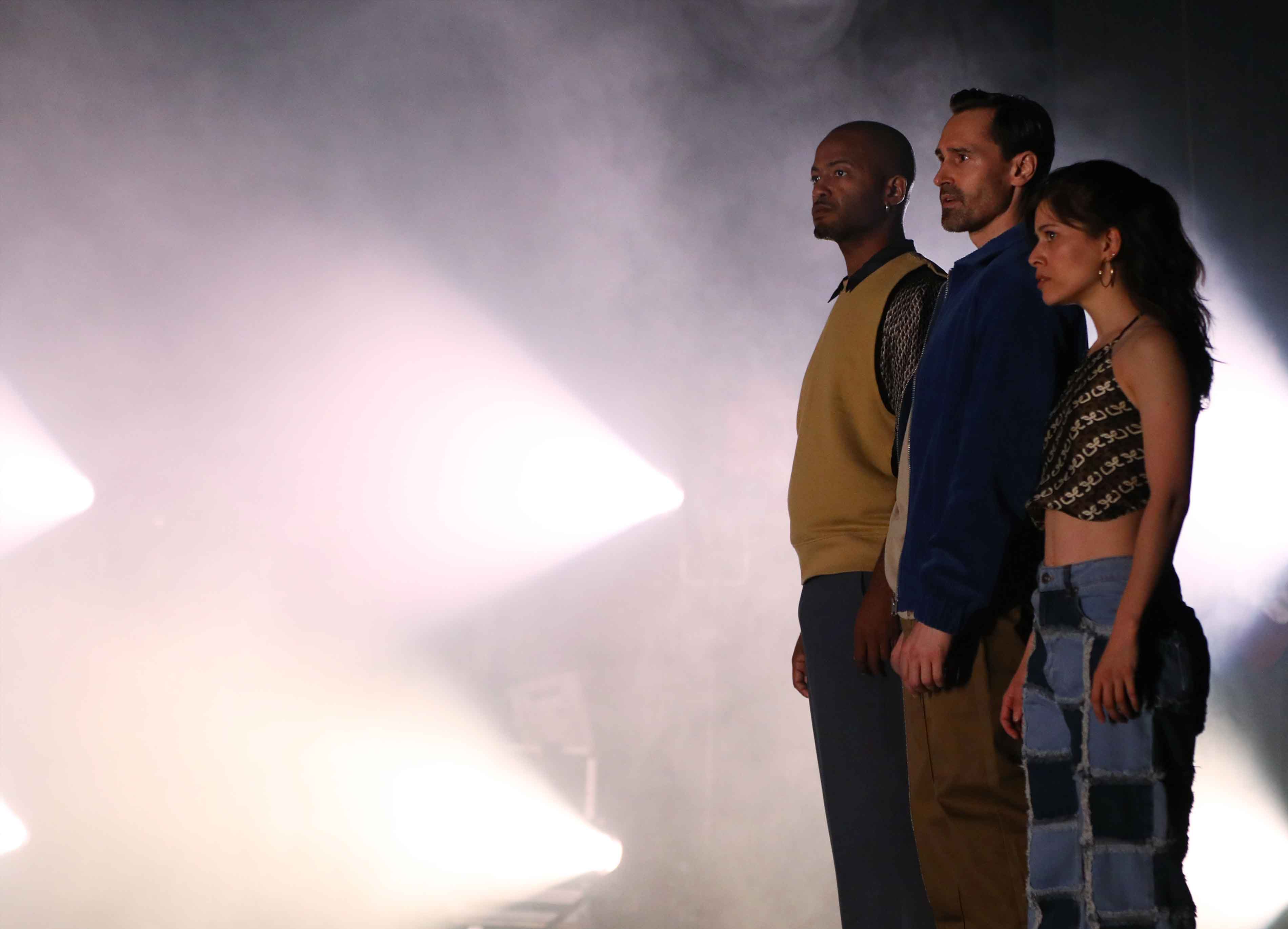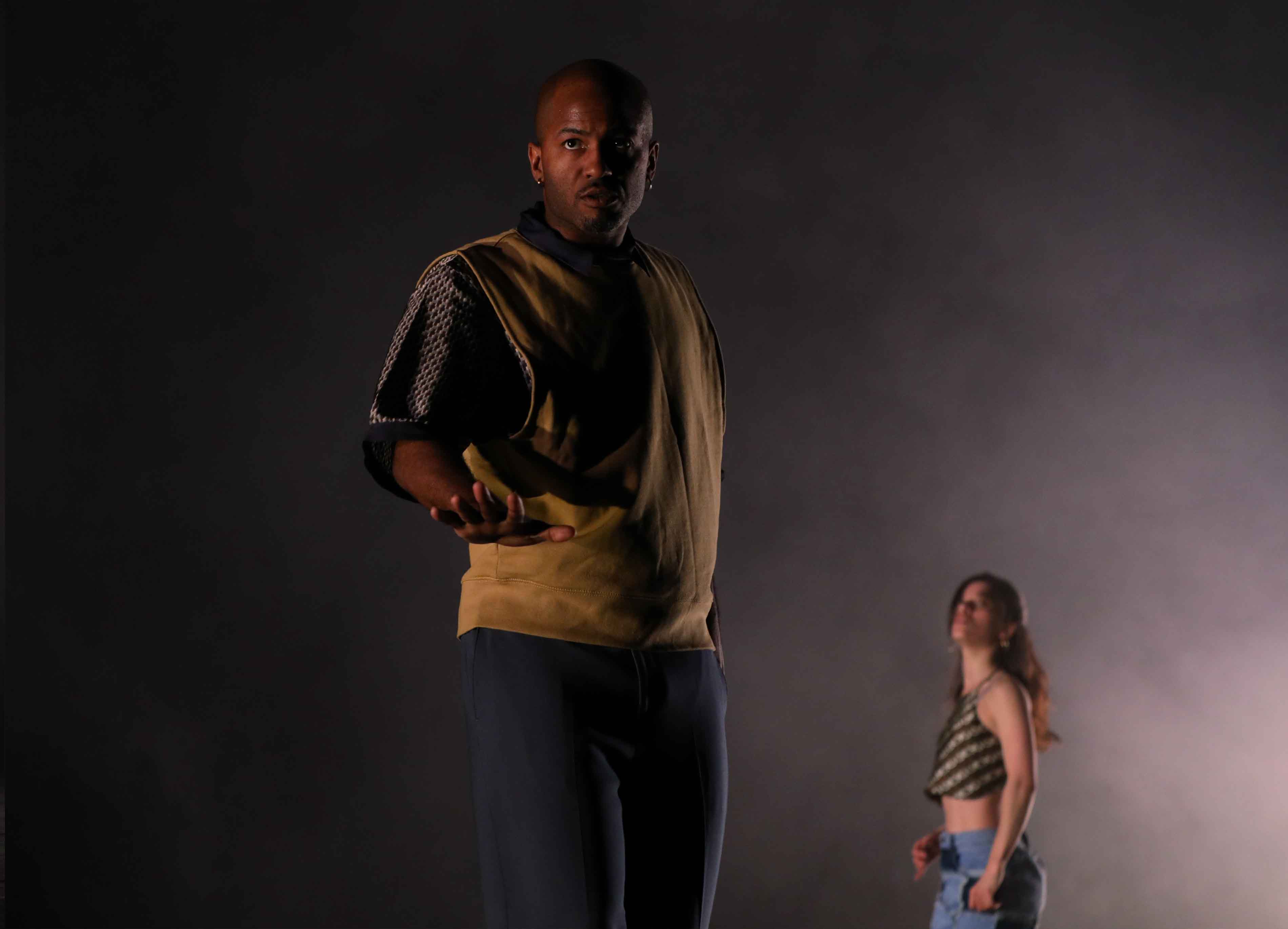 Choreography: Anne Nguyen
Performers: Sonia Bel Hadj Brahim, Arnaud Duprat, Pascal Luce
Lighting design: Ydir Acef Music transitions (creation): Sébastien Lété Stage managers on tour : Matthieu Marques

Partners
Coproduction: L'Auditorium Seynod; Théâtre de Chevilly-Larue.
With the support of Centre d'Art et de Culture de Meudon; Le CENTQUATRE-PARIS; Mairie de La Courneuve – Houdremont centre culturel; Centre culturel l'Imprévu de Saint-Ouen-l'Aumône; CND Centre national de la danse – provision of studio; Établissement public du Palais de la Porte Dorée.


The par Terre / Anne Nguyen Dance Company is funded by l'Aide pluriannuelle du Ministère de la Culture / DRAC Ile-de-France, la Région Ile-de-France for "Permanence Artistique et Culturelle" and l'Aide au fonctionnement du Département du Val-de-Marne. In 2023/2024, the par Terre / Anne Nguyen Dance Company is an associate artist to Théâtre Molière -> Sète scène nationale archipel de Thau (34), La Manufacture CDCN Nouvelle-Aquitaine Bordeaux • La Rochelle, with the support of ministère de la Culture, Théâtre de Choisy-le-Roi, Scène conventionnée d'intérêt national – Art et création pour la diversité linguistique (94), and is taking part in an artist-in-residence program in Ivry-sur-Seine, in partnership with la briqueterie – CDCN (94). Anne Nguyen is invited to an artistic and cultural co-construction at La Maison des Métallos in January 2024.
"Underdogs is a virtuoso, narrative choreography that provides a glimpse into the lives of a group of people at the bottom of the social ladder. On the basis of a series of musical numbers from the 1970s, we are taken into the anecdotes. Survival it is, with the body as a weapon. The choreography, which is based on hip-hop styles, is still fairly abstract at first, but soon acquires a narrative line when the dancers' arms show recognisable weapons in mimetic movement language. The violence in the lives of the three dancers becomes apparent and seems to be irreversible. Street violence, mutual violence and domestic violence; they all pass by. The climax of Underdogs is a long slow-motion fight between the three, in which every movement is worked out in minute detail. It is a traditional, excellently timed piece of modelling. Anne Nguyen is one of the female pioneers of hip-hop dance. Her work is sober and sometimes a study of styles, as in Kata (2018). This time, she starts from a different angle and links virtuoso movement to emotions from soul music, a perfect basis for her story about the underclass. She tries to archive the body of that group of people by means of the songs that are played in full, like an old LP from that time. On a handout, which is handed out by the dancers at the beginning of the performance, the music list is provided with context. The piece is too narrative for neutral observation. The body has to put up with a lot, and at the same time it is also its greatest pride: dancing as a means of survival. […]In this sense, the theme of Underdogs is and remains urgent, and the repetitions that fill the choreography are also reality. Nevertheless, this piece commands respect. Especially in its virtuosity; what a performance, what dancers! And as for the subject matter, you would wish that the hall was full of audience members who recognise themselves in the story."
Theaterkrant (13 November 2021)
"In Underdogs by Anne Nguyen we follow three dancers who navigate their intuitions as individuals and as a group in an imagined urban landscape. They transition through expressive postures, gestures and explosive energies that we know from hip-hop. Throughout the performance there is a beautiful contrast between their fast and fragmented movements, and their action in slow motion. Between waiting and slowing down, and being tossed back and forth between different directions. At times, their movement is oppressive, causing others to be 'underdogs', but who is in control is changing quickly. Set against a soundtrack of 1970's American soul music, it reminds of the rebelliousness of popular movements fighting for the rights of other underdogs. The performers move with determination and in unity, while each dancer brings their own personality, and expressions of assertion or refusal."
Frascati Theater (November 2021)
"Anne Nguyen's production intoxicates the audience to the point of collectively knocking them out. In this sense, Anne Nguyen's Underdogs on the secluded open-air stage in Weißensee proved to be a perfect festival launch. All around, meadow grass and lush trees proliferated wildly, in the middle a playground with a tent roof – an idyll that the French Underdogs countered with powerful hip-hop movements. For fifty minutes, two men and a woman balance above the abyss of everyday ghetto life, which is little different in the suburbs of Paris than in Los Angeles or Detroit. Nguyen connects breakdance to the milieu of its origins, to the black subculture of the metropolis. Soul and funk heat up the whole thing before the choreography goes into slow motion to translate murders and manslaughters, rapes and shootings into sequences of anguished body images: a comic strip of flesh and blood. Nguyen, who has a background in martial arts and founded the Compagnie par Terre in 2005, belongs to the avant-garde of the field. Her sensual and sensitive productions intoxicate the audience to the point of collectively knocking them out. The choreography is based on iconic leitmotifs, such as the gun in a child's hand or the Statue of Liberty, which stands in the bay of New York and on the Seine in Paris. Sonia Bel Hadj Brahim aka Miss Liberty bravely stands her ground, her torch of illumination raised to the sky, while Arnaud Duprat and Pascal Luce almost bang their heads beside her."
Süddeutsche Zeitung (17 August 2021)