Autarcie (….)
Quartet – 2013, duration 50 min
Autarcie (….) is a game of strategy where, for 50 minutes, four dancers engage in a frantic ritual, alternating between forward-facing dance moves and free digression. The four women transform their respective dance specialities of breakdance, popping and waacking into an abstract vocabulary, establishing their powerful individualities on stage and thrusting themselves into the space in pursuit of territory, alliances and hierarchy. The front of the stage is the rallying point where the dancers come together and devise a warrior dance directed at the audience. The inner workings of this restless "tribe" with all the power struggles that ensue and the search for possible points of harmony, thus unfold on stage, to the pulsating, unbridled rhythms of the percussive organic beat.
The costumes of Autarcie (….) are designed by Courrèges. One of their classic piece was recreated and reworked especially for the four dancers.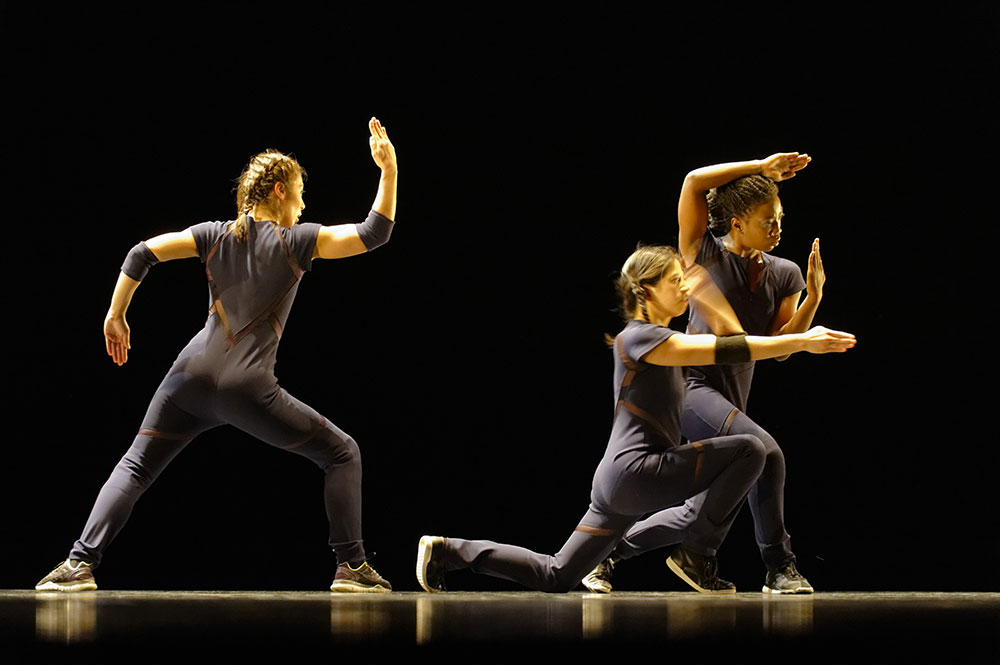 ---
Cast
Choreography: Anne Nguyen
Dancers: Sonia Bel Hadj Brahim or Anne Nguyen, Magali Duclos, Linda Hayford, Valentine Nagata-Ramos
Understudy dancers: Farrah Elmaskini, Odile Lacides, Andréa Moufounda, Clara Salge
Original soundtrack (Composer and Percussionist): Sébastien Lété
Lighting design: Ydir Acef
Costumes designed by: Courrèges

Partners
With the support of
: ADAMI.
The international tours are supported by
: the Institut Français and the City of Paris for the tour in Asia.
Coproduction
: Théâtre Paul Eluard de Bezons, Scène conventionnée; Théâtre Paul Eluard de Choisy-le-Roi; tanzhaus nrw, supported by Take-off: Junger Tanz Düsseldorf; Centre chorégraphique national de Grenoble – dans le cadre de l'accueil studio 2013; Centre chorégraphique national de Rillieux-la-Pape – Direction Yuval Pick; Parc de la Villette (WIP Villette); Centre de Danse du Galion d'Aulnay-sous-Bois; L'Avant-Scène Cognac – Scène conventionnée "inclinée danse".
Autarcie (….)
is funded by Aide à l'écriture granted by the Beaumarchais-SACD association.
With the partnership of
: Centre national de la danse – mise à disposition de studio.
The par Terre Dance Company is funded by
l'Aide pluriannuelle du Ministère de la Culture / DRAC Ile-de-France, la Région Ile-de-France for "Permanence Artistique et Culturelle" and l'Aide au fonctionnement du Département du Val-de-Marne.
"The whole forms a symbiosis of body movements, poetical in its straightforwardness, evoking new intricate geometric patterns paving the way for new choreographic angles. At once sublime, technically sophisticated and poetically enchanting. Here we have an abstract choreographic language evoking contemporary dance, but filled with that sense of perpetual action peculiar to hip-hop dance."
Dans – Ann Jonsson (April 21st, 2014) / Sweden
Read the press
"Autarcie (....) captured many a heart this night. The four amazing dancers, Sonia Bel Hadj Brahim, Magali Duclos, Linda Hayford and Valentine Nagata-Ramos, deliver an astonishing performance. In a series of hauntingly beautiful robotic movements, this production quickly achieves a trance-like state, with inventive , groovy, provocative results. The choreography, metered to the nearest split-second, rich, implacable and irresistible, explores a mechanical ritual upset by a need for control and freedom, set to the exquisite music of Sébastien Lété."
Journal du Blanc-Mesnil – Laëtitia Soula (November 28th, 2013)
Read the press