Collaborations
Danser la peinture
Published in November 2015
Dancing the work of an artist, this is the challenge laid down by the photographer Laurent Paillier and the dance critic Philippe Verrièle for eleven choreographers. In "Danser la peinture", Anne Nguyen reinterpret the work of Jean Degottex through ten photos.
i
An original piece commissioned by the Malka dance company
Length 25 min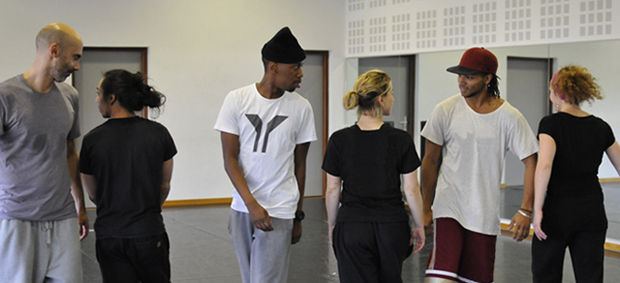 Anne Nguyen was happy to rise to the challenge set by Rhone-Alpes choreographer, Bouba Landrille Tchouda, by taking part in his trilogy La Preuve par l'Autre for three choreographers (Anne Nguyen, Bouba Landrille Tchouda and Farid Berki). Each choreographer will stage a 20-minute piece on the common theme of 'otherness', using the same six dancers. Anne Nguyen's piece for this trilogy is called i. The pieces i and La Preuve par l'Autre have been staged in February 2014 at the Château Rouge d'Annemasse following a 3-week choreographic residency. The title of the piece i, is inspired by Kafka's character "K", the initial used for the last or first name of individuals trying to find their place in an environment they find overwhelming. In the dystopian novel We by Zevgeny Zamyatin, I-330 is the "number" given to the revolutionary woman who encourages the main character to break the law and his routine. i is also the first letter of the words "identity" and "individual", perhaps because it resembles a human being in a standing position, head held upright, arms and legs not shown. For this production on the theme of otherness, Anne Nguyen worked around a simple imagery-laden concept: her six dancers, as if "planted" in different parts of the stage, confront themselves to the audience gaze. Performing to a soundtrack of 90s hardcore America rap music interspersed with hauntingly beautiful classical snippets, the dancers' jerky, pulsating movements reflect the inner turmoil and battles of a generation trying to keep its head above water against all odds. i is not only a statement, a confrontation with the gaze of the uknown, it also challenges the way we contemplate the singular.
---
Cast:
Choreography: Anne Nguyen
Artistic direction of La Preuve par l'Autre: Bouba Landrille Tchouda
Dancers: Lyli Gauthier, Jim Krummenacker, Alice "Lissfunk" Pinto-Maïa, Sithy Sithadé Ros, Medesseganvi "Swing" Yetongnon, Jimmy "Yudat" Zelou
Recorded musics: AZ, Channel Live, Mobb Deep, Troubleneck Brothers, Nine, Johannes Brahms: Nänie ("Auch das Schöne muss sterben"), for chorus, orchestra and harp ad lib, Op. 82
Costumes: Claude Murgia
Lights: Fabrice Crouzet
Partners:
Production: Compagnie Malka.
Coproduction: Château rouge - Annemasse; La Rampe - Echirolles; Théâtre de Vénissieux; Parc de la Villette, dans le cadre des résidences d'artistes.
Cypher

Following her meeting in 2012 with Australian dancer and choreographer, Nick Power, at the time artist-in-residence at the Cité des Arts de Paris, Anne Nguyen decided to support his first project as an independent choreographer. Cypher, is an "exploration" of the circle ritual in original hip hop and will be the first hip hop show to be produced in Australia. Since April 2013, Anne Nguyen has acted as playwright and choreographic adviser to the Australian choreographer in Sydney. Two research residencies have already been conducted and a third is planned for 2014/2015 for the production of the piece. Anne Nguyen is also lending support to the project by promoting it through her own professional network. A one-hour show for four Australian breakers and one Australian popper / street artist, Cypher is an "exploration" of the circle ritual in original hip hop.
---
Cast:
Choreography: Nick Power
Choreographic consultant and dramaturge: Anne Nguyen
Dancers: B-boys Blond, Hideboo, Don, Stevie G
Dancer, Graffiti Writer, Music Producer: Sereck
Music: Jack Prest
Production: Nick Power and Stalker Theatre

Partners:
This project has been assisted by: the Australian Government through the Australia Council for the Arts, its arts funding and advisory body, Critical Path.
Miscellaneous projects...
Anne Nguyen is embarking on numerous collaborations with artists and designers from all backgrounds. She has been working with the couture house, Courrèges, since 2013, for the design of costumes for the production Autarcie (....). She has contributed to a book written by Philippe Verrièle and Laurent Pailier due to be published in 2014, which draws parallels between contemporary dance and the visual arts.