Battle of battles
Battle La Courtille (93)
Cultural action realized within the framework of the In Situ project of Seine-Saint-Denis department
As part of an In Situ residency instigated by the departement of Seine-Saint-Denis (93), the par Terre Dance Company conducted a project with 3 classes of 6th and 5th grade students at the Collège La Courtille in Saint-Denis, a Paris suburb. The project culminated in a hip-hop and Afro dance battle organized with the students in their own school. From September 2021 to June 2022, the selected students participated in workshops organised with members of the par Terre Dance Company on dance, presence and self-assertion, but also on communicating around the event, greeting the public, and taking care of logistics. During the year, dancers from Heracles on his head also performed In Situ at the school and rehearsed there for two weeks. The students were taken to the theater to see the par Terre Dance Company's other shows Underdogs and Hip-Hop Nakupenda, where they had discussions with the artistic teams. They prepared short dance sets that they performed inside other classes at the school. The project culminated in an event organised by the students inside the school, where parents and the remaining schoolchildren were invited: Battle La Courtille.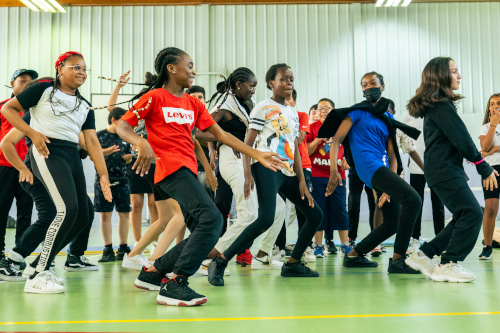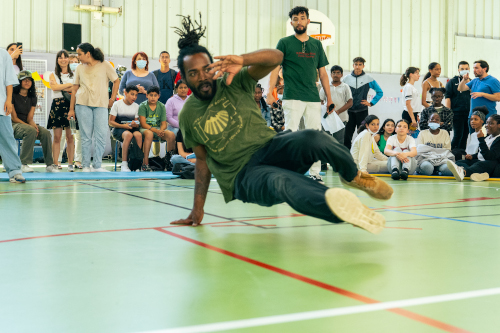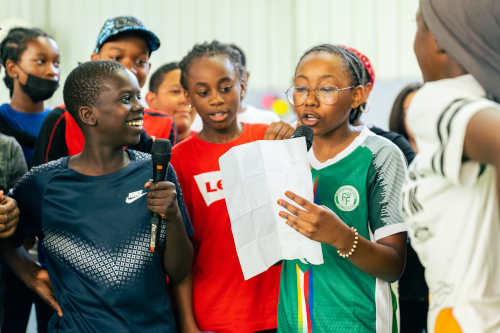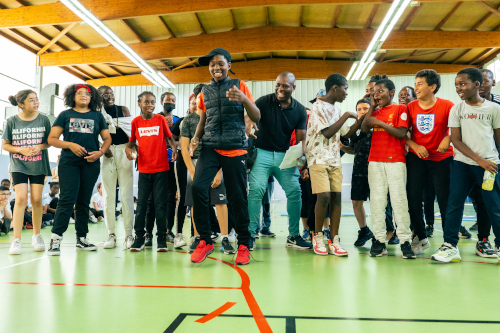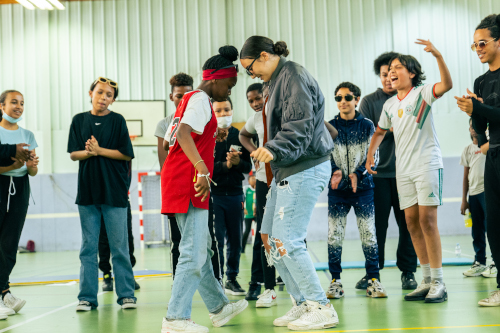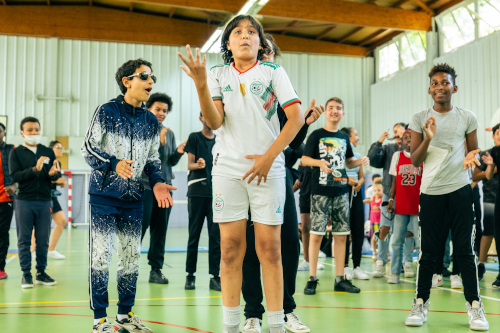 Conception: Anne Nguyen
Artistic collaborator: Didier Boko
Artistic contributors: Fabrice Labrana alias Fabbreezy (coach danse) Fabrice Mahicka alias Faboo (coach danse), Clara Salge alias K-Yoo (coach danse), Didier Boko (organisation générale), Sabri Sidi-Ouis (speaker), Patrice Meslien (DJ)
Assisted by: Olivia Alves, Mona Kaabi, Ekin Akkilic
Coordination: Juliette Dubin (Conseil départemental de Seine-Saint-Denis), Adèle Guihéneuf (Collège La Courtille), Adèle Jaffredo (Compagnie par Terre), Didier Boko (Association Fondament'all)
Collège La Courtille : Philippe Legros (principal), Mme Benayad (CPE)
Teachers: M. Baniel, Mme Bensmail, Mme Biega, Mme Burlet, Mme Collet, M. Coutant, Mme Debant, M. Gasmi, M. Greco, M. Halftermeyer, Mme Hourcade, M. Jacques, Mme Kabachene, M. Leglouet, Mme Maachi, M. Matignon, Mme Prieur, Mme Turpin, M. Wagner, toute l'équipe pédagogique et administrative, les élèves des 6ème B, 6ème D et 5ème D, la chorale et M. Evin
Images: Mounir Amhiln, Sabri Sidi-Ouis
Editing: Mounir Amhiln

The par Terre Dance Company is funded by l'Aide pluriannuelle du Ministère de la Culture / DRAC Île-de-France, la Région Île-de-France for "Permanence Artistique et Culturelle" and l'Aide au fonctionnement du Département du Val-de-Marne.
In 2022/2023, the par Terre / Anne Nguyen Dance Company is an associate artist to Théâtre Molière -> Sète scène nationale archipel de Thau (34), to L'Auditorium Seynod (74) and to Centre d'Art et de Culture de Meudon (92),
and is in partnership with l'Orange Bleue d'Eaubonne (95).