The par Terre Dance Company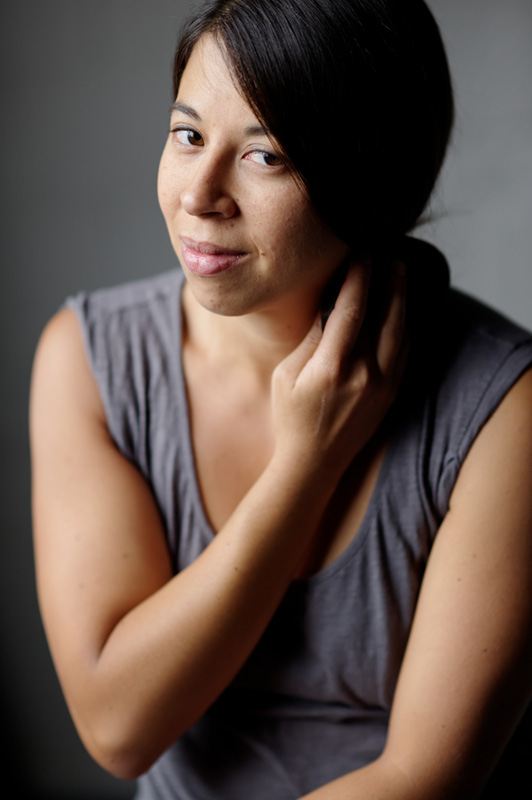 As a dancer specialized in breakdance* and familiar with the world of hip-hop battles*, Anne Nguyen founded the par Terre Dance Company in 2005. The scientific thought as well as her practice of several martial arts inspire her to conceive choreographic universes that sublimate the hip-hop dance and its essence. By setting precise gestures, geometrical constraints, energy and density contrasts, intertwining of bodies and dance mechanisms, and unexpected occupations of space, she combines a raw, accomplished hip-hop dance with a graphic, pure, destructured choreographic writing. Her choreographic pieces display a complex, precise architecture and alternate between controlled spaces prompting personal interpretations and spaces left to chance, or calling for improvisation, which can be fraught with risks. With architectural geometric declinations in Square Root, uninterrupted flow of dance particles in continual transformation in PROMENADE OBLIGATOIRE, robotic partition of revisited couple dances in bal.exe, games of strategy in pursuit of territory in Autarcie (….), variant of the breakdance in the form of martial arts in Kata, her creations reflect the forms and energies that surround human beings in the contemporary world. They combine poetry and mathematics, sensuality and explosiveness. They explore the links between music and dance, through original musical creations and a reflection on the dancer's relationship to music and time. Through her choreographic creations, Anne Nguyen questions the value given to the observer and the connection between individuals. She likes to create new relationships between the audience and dance, which she implements through hybrid projects like Dance of the city warriors, a course of participative and immersive installations crossing hip-hop dance with the world of video and virtual reality, or with Graphic Cyphers, an immersive choreographic concept for the public space. Anne Nguyen was awarded the 2013 SACD Nouveau Talent Choréographie prize and appointed Chevalier de l'Ordre des Arts et des Lettres in 2015. She is an associated artist to the Théâtre National de la Danse de Chaillot until 2018.
PROMENADE OBLIGATOIRE, production 2012.

© Pierre Borasci

PROMENADE OBLIGATOIRE, production 2012.

© Pierre Borasci

Autarcie (....), production 2013.

© Jean Van Lingen

Autarcie (....), production 2013.

© Philippe Gramard

Yonder Woman, production 2010.

© Philippe Gramard

Yonder Woman, production 2010.

© Philippe Gramard

Racine Carrée, production 2007.

© Philippe Gramard
Repertory and productions
Anne Nguyen is currently working with more than thirty hip-hop dancers with different specialities (breakdance, popping and waacking) on her different touring productions, and she herself performs in several of them such as Square Root and Yonder Woman. Anne Nguyen's first production, the solo Square Root (2007) relates the geometry found in breakdance movements to the contemporary urban environment. It combines mathematical dance compositions with some of Anne's poems. The solo won second prize in the Masdanza contemporary choreography competition in 2009. Anne Nguyen also choreographed Keep it Funky ! (2007), a celebratory piece devised for six lockers*, and Spirit of the Underground (2008), (2008), a performance for five dancers and one actress, on the themes of contact and dreams. Her duet Yonder Woman (2010), an "experiment for two superhero women", analyses the notion of performance through a game-play based on linear progress and relationship behaviours. Her 2012 production PROMENADE OBLIGATOIRE is a one-hour walk for eight poppers, who undertake an uninterrupted crossing along the timeline, in an exploration of the different possible states of "being together". In Anne's 2013 production for female quartet Autarcie (....), she explores the inner workings of a restless "tribe", with all the power struggles that ensue. In her 2014 production bal.exe, a "mechanical ball set to chamber music" for eight poppers and five classical musicians, robotic dancers engage into a new "mechanical" dance style performed in pairs, called "looping pop". Anne Nguyen staged the duet Lettres à Zerty in 2015 as part of a commission for young audiences by CDC Le Gymnase and CDC Le Cuvier. In October 2016, Anne Nguyen created Dance of the city warriors, an immersive, participatory course of installations centered on hip-hop dance, implementing live video capture and editing interactive video processes and performances danced in situ. In October 2017, Anne Nguyen will stage Kata , a show for eight breakdancers that lends form to the warrior-like energy of breakdance. In 2018 she will choreograph a show for dancers from New York City.
Keen on collaborating and cross-referencing within artistic milieux, Anne Nguyen created in 2014 the piece i as part of the trilogy for six dancers and three choreographers La preuve par l'autre commissioned by the Malka Dance Company. She has also worked as choreographic consultant to Australian choreographer Nick Power, in Sydney, for his 2014 production Cypher.
Extract of a foreword from the choreographer
"For a hip-hop dancer, dancing has something of a ritual about it. The par Terre Dance Company takes its name from the almost sacred relationship to mother Earth, where the Earth has the role of a deity: "par Toutatis!" (a Gallic exclamation invoking the name of a Celtic god) becomes "par Terre". The expression "par Terre" also reflects our highly scientific attachment to the laws of Nature, starting from the premise that the laws of physics governing the movement of the human body are peculiar to planet Earth and our environment. For me, dancing consists in placing one's body in resonance with the laws of nature in order to draw closer to the beauty of mother Earth. To choreograph is to feel the precision of the body's movements to then place them in a wider context of space and time. Today, we are surrounded by hardness, squareness, immenseness. Faced with an inert environment, the mechanisation of our lifestyle, the sedentarisation of our bodies, how does the body react? Through hip-hop dancing, the contemporary body endeavours to appropriate the constraints of its urban environment to be more readily free of them. Through our shoes, through the concrete, at the same time incorporating the right angles of the capital letter T for Terre, or E for Earth, that compose our Earth, hip-hop dancing is a dance in the present, a spontaneous resistance movement on the part of the living. Hip-hop dancers are city warriors. Hip-hop dancing injects new meaning into dance and its expression."

Read more Anne Nguyen
"Since 2007, Anne Nguyen follows her pared down yet imperious artistic line, carving straight and sharp without deviating from her aspirations, even less from the fundamentals of her discipline. With a scientific background, she puts hip-hop movement through the mill to extract spectacular equations, uncluttered yet always surprising. A love of constraints and a passion to sublimate them: typical Nguyen."
Le Monde Magazine – Rosita Boisseau (April 13th, 2012)
"There has been, for a while now, a feeling of a captivating singularity hanging around Anne Nguyen. No use searching any longer, this singularity finds its full expression in PROMENADE OBLIGATOIRE , a dance piece in which, for the first time, hip hop movements become enchanting. Discreetly, Anne Nguyen has made a name for herself with her first solo, which she threw herself in. Square Root lifted the veil on her mathematical mind, her sense of space and her position as a B-Girl. Here, Anne Nguyen shows her capacity to set up a real collective piece of work, extremely choreographic and deeply rooted in "the essence of hip hop", which artistic meaning is fully revealed by the message and intentions. Her PROMENADE OBLIGATOIRE is a dance piece for eight poppers. They throw themselves in an uninterrupted crossing for an hour. Far from being an ordinary stroll as the title might suggest, this is a skillfully methodical march which sole purpose is to cross the stage from one end to another."
La Terrasse – Nathalie Yokel (September 2012)