To close this month of touring all around France,
PROMENADE OBLIGATOIRE
will be performed on Saturday, 24th May (8.30pm) at Les Treize Arches in Brive (19). 
To introduce the show, meet Anne Nguyen on Friday 23th May at 8.30 pm for a conference / discussion : "Basic principles of hip hop dance and its variations on stage".

For her seventh creation, Anne Nguyen—who has been awarded the 2013 Nouveau Talent Chorégraphie SACD prize—restages eight popping specialists, this time to chamber music played on stage by five classical musicians. She has devised two completely dissimilar anachronistic balls. In the first ball, which captures the 2014 spirit, the dancers are like wax dolls cast aside in a night club, springing to life spasmodically in a jerky, exuberant dance to the music of Connesson, Bach and Biber performed by solist musicians. They return for the second ball in the guise of bizarre onlookers to witness the performance of Brahms's quintet for clarinet and strings (opus 115). Inspired to move by the melancholy, bewitching music, they interact with each other with jerky, restrained and mechanical gestures, moving like robots, sketching out a few dance steps in the process.
bal.exe
could be the name of a computer program installed in the memories of these somnambulistic dancers, a program prompting the dancers to automatically execute their movements in pairs. A specialist in the art of deconstructing hip-hop dance, Anne Nguyen revisits the art of social dancing, and creates a new 'mechanical' hip-hop dance style performed in pairs, called "lopping pop". In
bal.exe
, the dancers' robotic, electrified movements are perpetually at odds with the liberating or interactive notions of conventional dance.
bal.exe
refers to the intuitive and emotional memories of "beauty", of dancing and of the body of the dancing partner. The eight solitary bodies are irresistibly drawn to the dance floor in their search for the pleasure of dancing for themselves or for their partner.
Premieres on 20th and 21st march at 8.00pm 2014 at CCN de Caen.

Then at Théâtre Louis Aragon de Tremblay-en-France (28 and 29 march), at Théâtre 71, SN de Malakoff (1st and 2nd april), at Forum de Falaise (3 april) then at Hautes Tensions Festival in La Villette (5 and 6 april).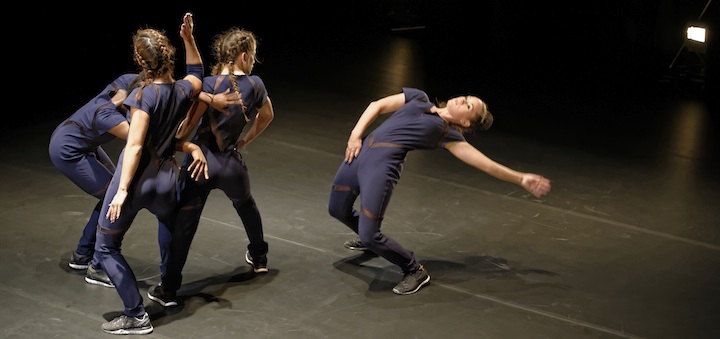 Autarcie (….) will be presented at Théâtre Paul Eluard de Choisy-le-Roi (94) on Friday 23 May (8.00pm).

> More info

"In couples, the eight dancers are standing face to face and enchain dislocated movements. Their bodies, shaken by spasms, explode like popcorn, expressing a strange nervousness. They touch each other, separate. "As in a duel, explains Anne Nguyen. It's a social dance, hindered by the use of different styles of hip-hop dance, as popping, based on muscle contraction and robotic, which mimes gestures of robots.""
M le magazine du Monde – Rosita Boisseau – 7 march 2014 

More info